Wurundjeri Indigenous Education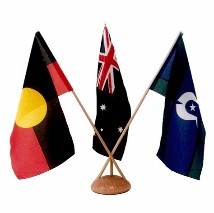 Indigenous Studies
The Victorian Curriculum acknowledges the uniqueness of Aboriginal and Torres Strait Islander histories and cultures and give special attention to it as a cross-curriculum priority. 'These cultures and the wisdom and knowledge embedded in them are things to be highly valued by all Victorians.'
Since 2001, The Patch Primary School has actively promoted Indigenous Education as a meaningful and relevant way of contributing to reconciliation. This supports a statement in 1999 by the Council of Aboriginal Reconciliation that highlights the crucial role education plays in the reconciliation process.
The Patch Primary School also supports the Marrung Aboriginal Education Plan, a 10 Year Aboriginal Education Strategy (2016-2026) which requires all early childhood services, and primary and secondary schools, to be culturally inclusive. The vision of the plan is for Victoria to be a state where the rich and thriving culture, knowledge and experience of our First Nations peoples are celebrated by all Victorians. Success can be linked to culturally supportive and responsive learning environments from early childhood.
The Patch PS embeds indigenous perspectives in the following ways:
Utilising Woiwurrung signage and Wurundjeri names where appropriate (buildings, trails, house teams)
Permission to use Wurundjeri Language from Murrundindi
Indigenous themed and inspired artworks
House names using Woiwurrung language

Merwool = Water (blue)
Jelwick = Fire (red)
Namin = Air (yellow)
Yetta = Earth (green)
Use of an Acknowledgement to Country at assemblies,
Displaying Aboriginal and Torres Strait Islander flags
Individual Education Plans for Indigenous students
Building relationship with Koori Education Support Officer, Colleen Garner, to meet the Marrung Vision
Indigenous studies perspective incorporated across curriculum through Inquiry units and other curriculum areas where relevant.
Celebration days of Indigenous importance; Close the Gap day, Reconciliation Week.
We learn more when we reflect on other ways of knowing. Teachers use opportunities to incorporate Indigenous culture whenever and wherever we can whilst delivering the Victorian curriculum.
The importance of sustainability, access to nature, and mental health underpins the Indigenous peoples' connection to country and demonstrates how Aboriginal people influenced and adapted to the environmental characteristics of Australian places.
The breakdown in this link, due to European settlement, enables a springboard for learning and understanding that examines the resultant inequality and raises awareness of current indigenous issues.
Through Close the Gap discussions, inquiries into indigenous land rights and the redesignation of the historical European term, terra nullius, our knowledge of the geography of the Kulin nation and pre-colonial Australia Indigenous groups and language are explored. Land rights and their inherent connection to 'identity' have been explored as well as how Australia's past policies have effected and continue to effect Aboriginal people today; from land acquisition, forceful removal to Missions, the Stolen Generation and inherent racism – to Makarrata and the direction to constitutional recognition.
In 2010 Murrindindi held a 'smoking ceremony using the Fungi (Phellinus sp). A fungi growing in the Wetlands which has Wurundjeri named pathways. This was then buried at the base of our 'Bunjil' Tree which stands between our Year 3/4 building, Bullum Bullum (butterfly), and Djeri Djeri (willy wagtail) one of the Year 1/2 buildings. It is also the first plant named in our Bunjil Trail. This trail showcases approximately 25 Indigenous plants and their usage as either medicinal, tool-making and/or bush tucker plants.
Similarly the Wurundjeri Creation story is told in conjunction with the history of evolution on earth. A story we can also utilise in our earth and space science and biological science program. In physical science we can investigate the engineering dynamics of the boomerang and Indigenous innovations and inventions from canoe building, tools, eel traps, basket weaving and Marngrrok, the forerunner for the AFL game. Chemical sciences are enhanced by incorporating the Aboriginal use of plants such as the black wattle leaves, used to stun fish to be harvested and in identifying plants used to make 'glue.'
ANZAC Day also provides an opportunity to examine the lack of acknowledgement of our indigenous soldiers and January 26th is debated from a range of perspectives.
BELOW ARE SOME AREAS IDENTIFIED IN THE VICTORIAN CURRICULUM ILLUSTRATING THE LINKS TO THE INDIGENOUS PERSPECTIVE:         
Literacy – A variety of texts, film and oral histories are a basis of our program. Understand that different social and geographical dialects or accents are used in Australia in addition to Standard Australian English (VCELA362). Discuss texts in which characters, events and settings are portrayed in different ways, and speculate on the authors' reasons (VCELT274).
Mathematics - Name and order months and seasons (VCMMG118). Pattern and number.
Science - Interactions between organisms can be described in terms of food chains and food webs and can be affected by human activity (VCSSU093).
Health & Physical Education - Explore how participation in outdoor activities supports personal and community health and wellbeing and creates connections to the natural and built environment (VCHPEP113).
The Arts Dance - Explain how the elements of dance and production elements communicate ideas in dances from different contexts they make, perform and view including in dances by Aboriginal and Torres Strait Islander peoples (VCADAR032).
Utilising the 'Wurundjeri Creation Story' as a performance at Showcase, developed song and dance performance in relation to Aboriginal land rights. Our school participates in the annual Belgrave Lantern Parade in our re-creation of the Wurundjeri Creation story.
History -  Aboriginal and Torres Strait Islander peoples who belong to a local area (VCHHK072). The nature of contact between Aboriginal and Torres Strait Islander peoples and others.  Explain the causes of significant events that shaped the Australian colonies, contributed to Australian Federation and the effects of these on Aboriginal and Torres Strait Islander peoples and migrants (VCHHC086). The different experiences and perspectives of Australian democracy and citizenship, including the status and rights of Aboriginal and Torres Strait Islander peoples, migrants, women, and children (VCHHK094). The nature of convict or colonial presence, including the factors that influenced changing patterns of development, how the environment changed, and aspects of the daily life of the inhabitants, including Aboriginal and Torres Strait Islander peoples (VCHHK089).
Geography - The many Countries/Places of Aboriginal and Torres Strait Islander peoples throughout Australia, and the custodial responsibility they have for Country/Place, and how this influences views about sustainability (VCGGK080). Similarities and differences in individuals' and groups' feelings and perceptions about places, and how they influence views about the protection of these places (VCGGK083). Influence of people, including the influence of Aboriginal and Torres Strait Islander peoples, on the environmental characteristics of Australian places (VCGGK094).
Civics and Citizenship - Describe the different cultural, religious and/or social groups to which they and others in the community may belong (VCCCC007).
Design & Technologies - Investigate the role of food preparation in maintaining good health and the importance of food safety and hygiene (VCDSTC036). Investigate how people in design and technologies occupations address competing considerations, including sustainability, in the design of solutions for current and future use (VCDSTS033).
Indigenous innovations and inventions from canoe building, eel traps, basket weaving and Marngrrok, the forerunner for the AFL game. Famous Aboriginal people and sportspeople.
RAP (Reconciliation Action Plan) began in 2019 in The Patch Kindergarten and is currently being developed further in conjunction with The Patch Primary School.
In 2021 The Patch Primary was selected as one of five schools in the Shire of Yarra Ranges to participate in a Pilot Program 'Learning on Country: Embedding Culture Indigenous awareness in schools project.
Our journey in promoting, the history, culture, diversity and value of all Aboriginal and Torres Strait Islander people to be recognised, acknowledged and respected continues to grow.