Overview:
The Patch Primary School and Kinder have introduced the Forest Classroom program to enrich children's learning through an experiential, authentic, hands-on immersion in nature. Children in Year 5 assist the 3 and 4 year old kinder children as they explore, investigate, and engage in activities under the careful guidance of their environmental educator and kinder teachers.
The Patch School and Kinder utilise the school's multi-award winning landscapes, many designed and built by students at the school, to provide ecological settings for students to discover the joy and connectedness that comes from a better understanding of the world around you.
Together the students embrace the outdoors in all kinds of weather, made possible by the provision of outdoor wear and protective clothing. We are committed to providing an education that comes from a place of discovery, and leads to a place of knowing and valuing.
Through this program, we shall be shaping students who will be the custodians of green space for the future, who value and understand the importance of nature and who are prepared to defend it and take responsibility for it. Together we will awaken their senses and establish connections that should endure to adulthood and beyond.
Rationale:
The Forest Classroom is a natural extension of the Environmental Education programs that have been running at The Patch School since 1998. Students of all ages have participated in programs that have aimed at developing ecological connections, ecological literacy, and an ecological identity through hands on experiences in nature. We have watched our students develop a sound understanding of the world around them, discover the interrelationships between living things found in nature, and take action to promote and protect habitat for wildlife.
Since 2006 our students have been deeply involved in the design, development, creation and management of our outdoor learning spaces (our Learning Landscapes) and we have received many awards for our environmental program including a Victorian Maths and Science Award, a Curriculum Innovation Award, and over 15 regional and state awards for our gardens, including ResourceSmart Biodiversity School of the Year in 2015. The Forest Classroom will utilise these spaces and extend the breadth of the learning made possible from them.
The creation of The Forest Classroom also builds on the extensive research and body of evidence that supports the value of outdoor experiential nature programs to address the growing dependence on screens and indoor time.
The Forest Classroom provides a fortnightly session that brings together our kinder children and our year 5 students under the guidance of the school Environmental Educator, Kinder Teacher and Co-Educator.
During each two-hour session, the kinder children are assisted by their year 5 counterparts to prepare themselves for outdoor activities (putting on suitable clothing), and visit one of the five ecological zones in the multi-award winning 10 acre landscapes of The Patch PS. Here, they will  undertake activities that enhance their senses, build their connections, develop their knowledge of the world around them, build resilience and self-esteem, and practice working co-operatively in mixed-aged settings.
Students will learn through hands-on activities that capitalise on seasonal changes, spontaneous discoveries and their personal interests. The Kinder teachers shall gain an understanding of the principles and concepts of the Forest Classroom through participation in the program and assisting the Forest Classroom educator. This process will embed sustainability of the program and encourage further explorations at other times in the kinder program.
The ecological zones that may be visited during the Forest Classroom program include the:
Fern Gully

Edible Forest and Food Gardens

Wetlands

Arboretum

Fairy Garden and Maze

Deep Creek Corner

Panorama Playground
Within these areas, students will engage in activities such as constructing bush shelters, collecting natural materials for identification, creating artworks from nature using natural dyes, growing and harvesting edible plants, creating tracks, examining mini-beasts, building and floating miniature boats, tracking waterways, producing nature journals and capturing changes in the environment. They will also learn about making compost and worm farms, creating miniature gardens, parts of plants and local wildlife.
Our students will benefit from explicit instruction and opportunities to build personal and social capabilities and leadership skills. By engaging with the world around them, they will form values about the importance of such spaces. These formative discoveries will be powerful drivers in their later years and form deep memories that can influence behaviours in the future.
Transforming Learning Outcomes:
The Forest Classroom will provide rich student learning experiences and outcomes and build on some of the elements described below:
Provision of hands-on, practical activities that have real-life connections make for good learning and deepen understandings.

"Kids teaching Kids" is a well-documented approach to build engagement and consolidate learning for the "teaching" students, and provide appeal and interest for the younger students.

Outdoor education in an authentic setting maximises real learning and provides a stimulating and inspirational learning environment.

Resilience and self-esteem are enhanced through gentle exposure to challenges and set-backs. By interacting with nature in all forms of weather, children become more robust and confident in their abilities.

Science begins with a question and The Forest Classroom will provide ample settings for lots of questions; nature is the best prompt for learning.

Research tells us that children will only value green space and nature as adults if they have valued them as children, and they will only value them if they know and understand them. Experience is vital, the sooner, the better.
 
How the learning outcomes will be demonstrated:
Deeper nature understandings will be evident from the conversations students engage in and the way they interact with nature and the questions they raise.

Students will demonstrate safe and responsible handling and use of tools, specimens and equipment that will be utilised during practical sessions such as garden tools, binocular microscopes, ponding equipment, weather recording equipment, identification charts, and animal and plant specimens.

Practices such as planting, weeding, mulching, composting and harvesting will demonstrate skills and techniques.

Conversations with families, students, teachers and others will demonstrate new knowledge and awareness.

Improved collaboration between students working together will be evident and students will be able to articulate why collaborative projects can be more successful than individual pursuits and how to work effectively in a team.

Students will demonstrate greater competence in putting on protective clothing and preparing for the outdoors, and show increased understanding of safe and responsible behaviour.

Enthusiasm for the program will be evident and a willingness to build on their learning may result in similar activities at home and in other settings.

Feedback from families will provide information regarding their child's experiences of the program and what they learnt. This would be collected as anecdotal evidence and shared with the community.

Behaviour changes and student voice will identify how important the program became and may initiate further projects across the school and kinder. Feedback from staff and parents will also provide valuable information on the benefits, outcomes and learning generated from the project.
Themes to explore during the Forest Classroom program may include:
Exploring our school grounds  and different zones within them

Investigating seeds, fruits, flowers, leaves, fungi, and habits of plants in our grounds

Identifying life in and around our school ground – minibeasts, worms, birds, chickens, reptiles

Creating habitats for wildlife – worm farms, planting native plants, lizard lounges

Growing plants from seeds, cuttings, transplanting

Producing garden art such as scarecrows, wind art, nests, tepees, stencilling, bark rubbing, leaf kebabs

Seeking - scavenger hunts, treasure maps, orienteering,

Constructing cubbies and dens, miniature gardens, bug hotels, compost

Growing, harvesting and cooking food from the garden

Water – where it comes from and where it goes, what lives in it, how to care for it
What we hope to see:
We would love to see a stimulating and inspiring Forest Classroom program embedded in our Kinder and Primary School where children are eagerly anticipating their session together and where learning is authentic, hands-on, practical and relevant. The program would awaken the senses of our students and teachers, it would alert them to changes in their environment and how nature is never static but forever regenerating and modifying.
Children would readily share their learning with their families and friends and would take them to locations on the school ground where their favourite activity or discovery took place. Their enthusiasm and energy for learning would be contagious and act as a catalyst for further explorations and discoveries.
Friendships would be made and the transition from kinder to school would be as natural as the life-cycles they have examined in nature.
The Forest Classroom would become a lighthouse program, an inspiration for other schools and educational settings to replicate the learning opportunities from mixed-age students and an outdoor landscape. Our school and kinder could mentor other schools and provide guidance for those wishing to replicate the program.
Our kinder children would participate in more school-based events such as planting days on World Environment Day and National Tree Day, and contribute to the broader landscape through their new knowledge, familiarity and competencies.
Staff from the kinder would become more familiar to staff from the school. There would be opportunities to plan together and to prepare for the joint activities and a shared purpose that would initiate conversations beyond the planning of the forest classroom program.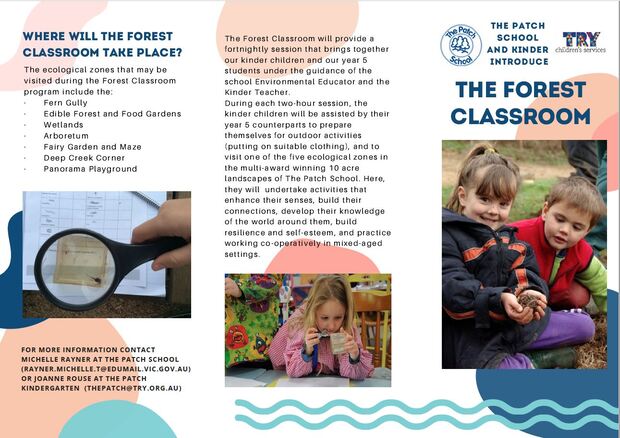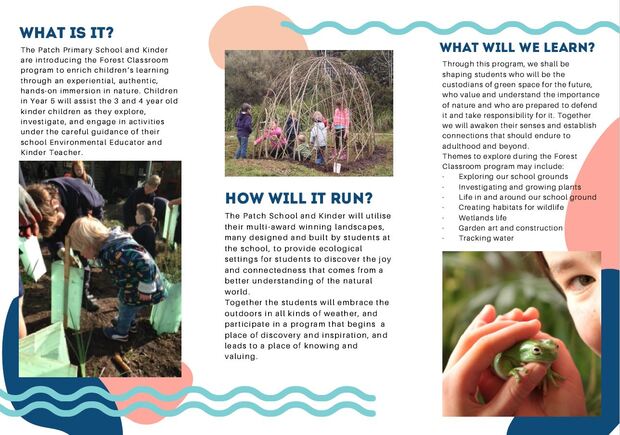 Publications Related to Forest Classroom
Impact of School Gardening on Learning.pdf
Inside story of an outdoor nation report.pdf