Japanese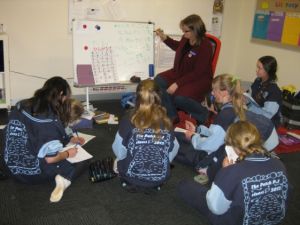 At The Patch Primary School, the language program focuses on Japan and the Japanese language, which is one of the priority languages identified in the Government's Australia in the Asian Century White Paper, released in October 2012.
All students from Prep through to Grade Six learn the Japanese language and culture for between 30 minutes to one hour per week.
Students study Japanese vocabulary and grammar, as well as learning about Japanese culture and etiquette associated with speaking in Japanese.  Students also get involved in activities related to Japanese festivals, as well as some historical aspects of Japan.  Students are also taught about the different Japanese writing systems, and are taught how to read and write using Japanese characters. Students use a range of ICT tools to learn Japanese, including iPods & iPads, websites, wikis, as well as learning how to type in hiragana.
Each year, the school holds a cultural day, where students spend a day participating in Japanese cooking, sporting activities, folktales, craft, and other activities. 
Students also have the opportunity to further their Japanese studies by attending a voluntary Japanese class during lunchtime.
The Patch Primary School is also looking to foster a sister school relationship with a primary school in Japan.