Our Environmental Education Program is a fully integrated, hands-on, stimulating program that brings the curriculum alive.
Premier's Sustainability Awards 2013
The Patch School was chosen as one of three finalists in the 'Education' catagory of the 2013 Premier's Sustainability Awards. This is a significant achievement in itself, as a primary school has never been named as a finalist in the Awards previously.
The acknowledgement received through our success in this prestigious event is testament to the years of hard work, vision and commitment contributed by many members of our community - students, staff, friends and family.
Our Learning Landscape allows us to educate and grow in the most inspirational of environments; something that many people never have to opportunity to experience.
Our sincere thanks to each and every person who has been, and continues to be, part of this journey.
March & April in Environmental Science
The past few months have been extraordinarily busy for the students working in Environmental Science. Apart from our regular hands-on lessons, our children have visited other schools, been visited themselves and began creating new learning areas for Years 1 & 2 and Years 5 & 6. To read more about what has unfolded in our amazing ourdoor learning area, click here!
Environmental Science
Flashback to 'Gardening Australia'
Those of you who are relatively new to our school may not have seen this clip filmed in 2009 for a segment in the ABC's 'Gardening Australia'. You will see that not only the garden has grown quite a bit, but so have the students!
Explore The Patch Garden
This is a more recent clip that you may have accessed via our online newsletter. It gives a great overview of the journey undertaken to establish this terrific learning environment.
Our school has once again won the Eastern Metropolitan Region division of the School Gardens Awards! On Thursday 29th November, selected students and teachers will make their way to the Royal Botanic Gardens for the announcement of the state winner! Our students will also be entertaining guests with a fantastic drumming performance.
Link to Royal Botanic Gardens Excursion information.
Have a look at the images used for the powerpoint presentation at our recent ceremony at RMIT to receive our Exellence Award or Science and Maths.
EVENTS
GARDEN JUDGES' VISIT:
On November 5th, four garden judges arrived by helicopter on the school oval. All the school and pre-school students watched with excitement as the helicopter landed and the judges alighted to be greeted by a selection of prep students and presented with a posy of beautiful paper flowers made by our students and art teacher, Sue. The purpose of th visit was to examine the garden developments since October 2009 and determine whether our school garden was worthy of another garden award. We had recently won the Eastern Metropolitan Region School Garden Award and are now awaiting results of the garden visit - these will be announced at the Royal Botanic Gardens on December 1.
We are very proud of our garden at The Patch School and it was wonderful to watch and listen to the students selected from grades 5 & 6 who were the official tour guides as they showed the judges around the garden. The judges were astonished at the level of knowledge demonstrated by the students and their clear understanding of the processes and purpose of sound garden design. They were able to articulate the reasons behind the layout of the garden, the importance of careful plant selection, the need for and processes of extensive site surveys and analysis prior to building a garden and even the botanical names of many of our plants. It was a wonderful opportunity to showcase the scientific knowledge, leadership skills and interpersonal development of our students and their pride and enthusiasm for our garden.
CHANNEL 7 VISIT: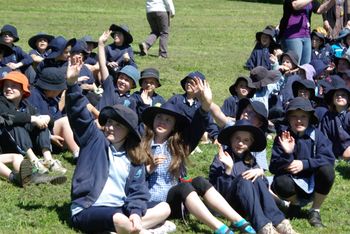 On October 15, we had a visit from Channel 7's weatherman, David Brown and his film crew who wanted to film a segment in our garden for "Brown's School Days" on Saturday, October 18 at 6:30pm. It was a beautiful, sunny day with delicious aromas coming from the pizza oven as pizza was prepared and topped with fresh garden herbsby the grade 3 students and cooked for all to share. David Brown interviewed many students as they worked in the garden on planting, weeding, mulching, gathering herbs, tending to the chooks, rolling out pizza and many other tasks. He was delighted by their ability to explain the reasons for their tasks and their ongoing nature as part of the management program for the garden and described the garden as one of the best he's ever seen.
His crew were equally impressed and constantly amazed by the students' knowledge and expertise in all things horticultural. Our students were given a valuable lesson in the processes of creating a short piece for television and how much time goes into producing a mere 2 or 3 minutes (gave a whole new appreciation for "Harry Potter"!).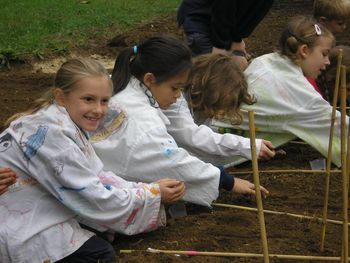 What we think about our garden and environmental education program:
Grade 5 Reflections on garden
Grade six reflections on garden
Designing and Creating the Garden:
Garden Project Presentation

 (how we made it)
The Eco-Centre:
All our students are given time every week in th e Eco-Centre and Garden.
Garden Info booklet for judges Oct 09